Just a few thoughts on a great Days episode from "The Shade"
It's been a while since I felt the need to gush about an episode of Days of our Lives and by a while, I'm talking about 2 years. Yes, it's been that long since I've seen an episode of Days that made me want to wax poetic about the show. Not shocking since the show has been pretty much dead to me since August of 2010, for obvious reasons. I started watching again in April when the tide started to turn for EJami. Since then I've been happy with so many aspects of the story, even though it seems to be taking a bit longer than any of us would like but EJami aren't a normal couple, which means their story can't be told as if they were a normal soap couple.
The episode (the EJami part of course) starts with EJ at Chez Rouge after the funeral service for Lexie. He's looking around uncomfortably, probably because he's in a restaurant filled with Brady's' and Horton's. Personally, that's all I would need to make me run for the exit but I digress. Two little bundles of energy come through the door and yell out "Daddy" and throw themselves into EJ's arms. Yay for Johnny and Sydney!!!
Well that starts me going with the goofy smile and tears. I'm a sucker for EJ and the kids and Sami being there is just the cherry on top. If there is one thing that the show totally screwed up in the past few years, it's been EJ's relationship with his children. I'm extremely happy the show has made an effort to fix the mistakes they made and this episode only made it better for me! The scene with EJ and the kids was perfect. They ask about Lexie and EJ gets sad and with that Johnny throws himself into EJ's arms followed by Sydney as Sami looks on sympathetically…Oh happy days!!!!
The next EJami scene has EJ asking Sami where Will and Lucas are. This is Sami's opportunity to ask EJ about the whole situation with Will, you know, the blackmailing thing. EJ asks her to put that aside for this one night and she agrees. EJ then recounts to Sami how he keeps waiting for his usual call from Lexie. She would call him every few days to check up on him and would leave him messages hoping he was OK and hoping  that he wasn't doing anything illegal or monumentally stupid. Which EJ admitted that he probably was.  Then a moment that had my EJami heart bursting:  Sami telling EJ that Lexie loved him and was proud of him but also that she knew what a wonderful father he was. EJ's eyes at this point are filling up with tears and he whispers to Sami "You think so?" and she responds sincerely "I know so"  and EJ reaches over, grabs Sami's hand and thanks her.  How can you not love a scene where EJ admits he's a criminal, Sami laughs and then still tells him he's a wonderful father.
The next scene has Sami and EJ sitting at a table alone when EJ gets up to possibly mingle with the other mourners but instead stands alone by the fireplace. Sami follows him but makes sure to tell him that she's not standing there because of him. Right, Sami…Keep telling yourself that. Sami then started to explain that she didn't have the greatest relationship with Lexie over the years and they showed a great flashback of a Lexie/Sami encounter about Brandon which ended with Sami trying to strangle Lexie :lmao:  Then the Sami Brady that many of us love appeared. She told EJ that Lexie was one of the only people who gets crediting with beating  Sami at her own game. EJ's response was great. The way he looked at her and said "Really? That's saying something. You're hardly an amateur when it comes to lying and scheming"  Sami responded by saying "Thank goodness or I would have never been able to survive being married to you" but she says it with a smile. So we have Sami being open and not apologetic about her scheming?!?! What more could you ask for??
Ok..Now the bestest part ever!!! I think I have watched this scene alone about 20 times since it aired on Friday. EJ decides to tell Sami something that Lexie apparently used to tell him all the time(thank you Lexie!!!!):
"If you and Sami stop trying to destroy one another you could actually make each other happier than you've ever been, can you imagine?"
This was followed by the cutest, most awkward and adorable scene that I think I've ever scene these two share.  When EJ says this to Sami he kinda turns away and doesn't immediately look at Sami for her response but Sami's looking at him. The way I interpreted this scene was that Sami took his response to mean that he didn't think it was a possibility and she started to awkwardly laugh. Then EJ looked back at her and saw her laughing and then got all serious because he assumed she agreed with him. It was almost as if he felt stupid for even mentioning it to her. To me, the EJ of the past would have said this to her and would have been carefully watching her response but that's not the EJ of 2012. He doesn't think there's a shot in hell for him and Sami. This part of the scene ends and they remind me of 2 teenagers at a school dance scared to ask the other to dance. They are alone at the fire place not knowing what to do or say and it's just too freaking cute!  Cuter  than puppies, ducks and bunnies combined!! Yes,it was that cute!
When they return from commercial, they start to awkwardly discuss Lexie's theory. The two were protesting so much that anyone who has watched a normal soap (Days isn't normal) knows this type of stuff is Soap 101. The couple who protest about not being together usually end up together.After typing out that sentence I feel like the soap gods are going to punish me somehow but it's too late. I said it!
Later in the episode, Abe tells everyone there that one of Lexie's requests was that everyone dance at this memorial. They start playing a Days favourite "I Only Have Eyes For You" by the Flamingos. Now many old Days fans know that this was the Carrie/Austin song from back in the day but ya know what??? It's an EJami song now..!!!  What came next had me smiling for what felt like hours. Little Johnny DiMera goes over and grabs Sami's hand as she's standing at the bar and drags her over to where EJ is sitting at a table alone, absentmindedly playing with a white rose.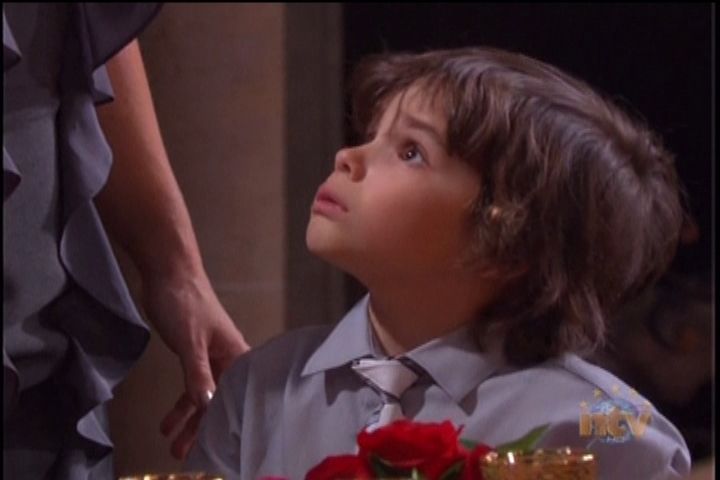 Johnny: "Mommy, why aren't you dancing with Daddy"
EJ and Sami both tell Johnny it's not a good idea and then the little DiMera takes Sami's hand and puts it in EJ's and says: "But Aunt Lexie wanted everyone to dance, right?" and then looks at them both with the most innocent and adorable face and they know they can't deny their son.
Before EJ leaves Johnny reminds him that he forgot his rose. Then hand in hand, Sami and EJ head on to the dance floor and Sami takes the rose from EJ and they start to dance. Unfortunately, that's all we saw of their dancing but hell, they danced!!!!
The reason that I adore this episode was that it was so unexpected. Yes, I read spoilers so I knew in theory it was coming but in the end it's all about how it appears on the screen. I didn't really expect Sami to remininsce about her time with Lexie and not be ashamed of her scheming history. I didn't expect EJ to be so awkward after sharing his Lexie theory. EJ is one of the most confident and arrogant characters I've ever seen but there's something about being around Sami that turns him into mush. Also, the emphasis on their family was just so wonderful because they have treated it so shabbily over the past few years. To even see little moments where they show the kids running over to Sami and EJ and hopping up on their laps was so subtle but very sweet. Plus the pièce de résistance : Johnny as EJ's wingman….Finally!!!!
I'm crossing everything: fingers, toes and even my eyes hoping that we continue to get such great stuff for EJami!
What did you think? Was it as great an episode as I thought or is the heat getting to me and it was one big hallucination??
Thanks to super Days fan Mosse for her great pics!
Thanks to Krono from Forbidden Love for her Johnny screen cap!